What are cloud services and how can your company benefit?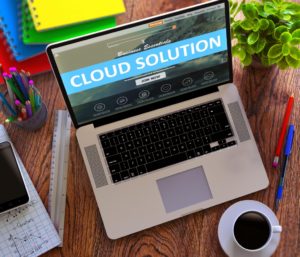 As a consumer, you enjoy the benefits of the cloud everyday without even realizing it. And today, more and more business owners are realizing the benefits of cloud services to enhance their daily operational tasks, to store and maintain data and provide a myriad of online services to clients.
But migrating to the cloud can be daunting and understanding the many capabilities of the different cloud platforms is key to taking full advantage of what the technology has to offer. Discover cloud services 101, the benefits offered by top vendors, including AWS and SoftLayer, and find out how you can implement the cloud for your business.
What is the cloud?
Cloud computing is revolutionary technology that delivers computing services over a proprietary network or the internet. This includes servers, storage devices, development platforms and software applications.
The cloud is not one physical place. It lives in many data centers around the world that house the hardware necessary to deliver cloud services. In simplest terms, when you download pictures using Dropbox, purchase something on Amazon or on any other online shop, you're using the cloud.
Its many benefits include securing data; accessibility anytime, from anywhere; scalability to grow as your company grows and flexibility. Using cloud services also offers companies cost savings because it's usually priced as pay-as-you-use, like utilities, so you only pay for what you actually use.
One of the most important aspects of cloud services is the fact that it liberates business owners from the need to house their own infrastructure or servers while still accessing its technology and services.
Amazon Web Services (AWS)
Hundreds of thousands of businesses depend on the AWS platform for mobile services, websites, backup and recovery, and more.
As a trusted cloud vendor, AWS helps some of the biggest businesses and government organizations get applications up and running with the highest level of security. Some of the solutions AWS offers include:
Archiving
Disaster recovery
Big data
Databases
Digital marketing
eCommerce
Mobile services
Development and testing
AWS gives businesses the ability to order the computing and storage resources they need and AWS deploys them on demand. Their data centers are full of physical servers, which are integrated with each other in a massive public cloud environment and are managed and maintained by AWS.
So while customers have complete control over the resources they ordered, the entire solution is automated and quick, eliminating the need for any costly infrastructure within their organization. AWS offers Hybrid, Private and Public Cloud deployments.
Softlayer
IBM's SoftLayer, like AWS, offers IaaS (Infrastructure as a Service) from a large number of data centers and network points around the world. They also top the list as one of the most trusted cloud vendors. With private and public cloud deployments, their arsenal of solutions
Includes:
Servers: Bare metal, virtual and software
Storage
Networking
Security
Email delivery and message que
SoftLayer Development Network
Monitoring and reporting
Management tools
Managed hosting
Support
The difference between SoftLayer and AWS is in their platforms — AWS automates and provisions at the hypervisor level (a virtualization layer on their physical servers that ties each individual node into the environment's total capacity), while SoftLayer automates and provisions at the data center level.
SoftLayer also offers bare metal servers, which allow businesses that know their way around technology to design their own bare metal cluster. So if you're looking to go even deeper than the virtual cloud server and instead design a customized bare metal solution, you can specify exactly what you want, down to how many sticks of RAM you need, and SoftLayer will configure it for you in a matter of hours.
Both AWS and SoftLayer offer organizations the benefit of IaaS without the need for an on-premise machine, but because SoftLayer offers dedicated hardware, it may be more appealing to the enterprise rather than a smaller business operation.
Migrating to the Cloud
When you understand all the capabilities presented by cloud technology, it's clear that any size business can benefit from making the switch. Moving to the cloud will ultimately help you reduce operational costs, increase productivity, improve accessibility and tighten security. How long will you wait to migrate?