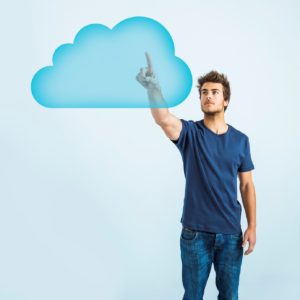 Find the right mixture of affordability and security when you're bootstrapping
Put away your tissues. No sense in shedding any tears because the fickle venture capital community didn't throw millions in funding at your startup. It may turn out to be a blessing in disguise in the long run. Bootstrap your startup and fund it yourself. And when you make it big, you'll own 100% of your unicorn.
Bootstrapping means watching every penny you spend. And one of the biggest expenses you'll have is hosting and related IT expenses. Are cloud services the answer?
Startups and the cloud – a match made in heaven?
Bang! You're a startup. That means you're moving at the speed of light, or innovation – whichever one is faster. You don't have the time (or the funding) to build your own physical server infrastructure. Keep your eye on the sparrow, which is a 70s-television way of saying that you should push maximum resources to your product or service.
It's almost as if the cloud was constructed just for startups. Cloud computing enables your tiny organization to scale on demand, and you've got access to products and services previously only available to mighty enterprises with money to burn.
Cloud-tastic benefits
Before the cloud, IT infrastructure and data centers were capital expenses. Now, they're operational expenses that you pay as you go. Here are the main advantages it brings to bootstrapping startups:
Keep it in your pocket: The purchase price of server hardware may be far less than it used to be, but that's not all you need. Add up all the related costs of your on-premises IT needs and there will be more zeroes on the figure than you want to see, many of which can be avoided with cloud services.
You might want to own it all one day, but that day isn't today. You can do more for less, and the savings on software licensing fees alone are worth positioning your startup in the cloud.
Grow (or shrink) on your own terms: You'd have to be living under a rock not to be touched by the soothing shadow of cloud scalability and flexibility. Hold down your costs until you absolutely have to grow. And then, it's not an act of Congress – it's likely just a mouse click to order more cloud-based resources.
Geek superpowers not required: Your cloud vendor is the expert. They're going to reward you with user-friendly interfaces that access reliable and redundant infrastructure. If you started working on an on-premises solution today, you wouldn't have it ready for some time. And besides, aren't you supposed to be working on your startup?
Cloud love
Everybody wants a piece of a successful startup, but usually only after the hard stuff's done. Not so with many cloud vendors. As a matter of fact, they want to be there with you at the start.
Submit your startup to Google Launchpad. Not only can you score some serious Google Cloud Platform credits, but some pretty important Google experts might just take your idea for a spin. Your startup could be asked to participate in Launchpad Weeks and other high-impact, invite-only events.
Microsoft has similar programs called BizSpark and BizSpark Plus. Bottom line here is that they give you access to up to $120,000 worth of free Azure cloud services. If you qualify, you can score up to $750 per month of services for three years. This breaks down to $150 per month each for up to five developers. Check out a nicely crafted video about the initiative here.
In addition, Amazon offers free AWS hosting to anybody smart enough to use the service. Take it to the next level and look into their AWS Activate program. This is how Airbnb and Slack started out. The dollar amount of AWS benefits adds up to a considerable amount, and the easiest way to find out of Amazon wants to support you is to sign up for their self-starter package. They'll get back to you if you meet their criteria.
IBM's SoftLayer has a sweet offer for startups, too. It's no surprise that they use the same dollar figures as Microsoft to lay out their value proposition. In this case, it's a cool $120,000 worth of IBM cloud services. They'll also help you with mentors, technical support, and discounts with partners offering good deals on important startup stuff like office supplies, hotels, and car rentals.
These are just the big players. There are many other cloud vendors who offer packages and assistance tailored just for startups. It's your job to seek them out and find the best deal.
And speaking of the best deal, why would cloud services make these offers to the little guys? After all, the statistics say that nine out 10 startups will never make it.
The answer is simple: It's a calculated gamble. A bet on innovation. Those VCs may not take a chance on you, but they're not the only ones who can profit big-time if any support pays off. Which is not to say that there isn't an altruistic reason for the goodwill that cloud service providers push toward startups.
In the end, though, business is business. That friendliness and support are firmly centered in the hope that you end up being the next unicorn that takes along their cloud services for a ride into the billion-dollar revenue stratosphere.
To learn more about the benefits of cloud services and how they can be leveraged to boost your startup, contact CloudHesive at 800-860-2040 or fill out our online contact form.