With this award we are even more driven to provide game-changing technology and services.
CloudHesive was recently recognized as one of the "25 Most Promising Cloud Service Providers" by Outsourcing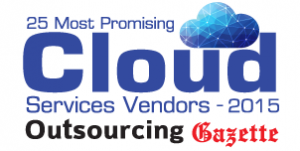 Gazette Magazine. A recognition that's not only an honor; but drives us even farther to provide what we consider game-changing technology and services to our expanding customer base. The recognition was given to 25 companies that offer the necessary resources, infrastructure and managed services for cloud environments.
As the business world continues to evolve technologically, Cloud Services are rapidly becoming a necessity among organizations around the globe. Today's most advanced technology is replacing traditional tools. The cloud offers the most efficient solutions to handle Big Data, so it only makes sense that companies that provide these services are on the rise. Because of this, the task of finding the right provider becomes even more arduous for those companies seeking to make the transition. Outsourcing Gazette compared it to searching for a needle in a haystack. So to help, their experts scoured the earth to find the companies that matched their standards. We think it's pretty cool that CloudHesive was chosen to be one of the 25 Most Promising—it brings us one step closer to achieving our mission of providing safe, scalable, cost effective cloud solutions to companies of all sizes and types and making their transition easy and pain-free.
At CloudHesive, we continue to set ourselves apart by making security a major priority. Our solutions combat security challenges head on at every step of the cloud migration process. Even the simplest steps have security issues and we alleviate them by architecting, deploying and offering managed security services. We increase our customer's security posture by leveraging our partners and a team of expert engineers who are focused on keeping our client's data secure 24 hours a day.
Our partnerships with some of the most widely respected security providers such as Vormetric, Cohesive Networks, Trend Micro and Alert Logic, helps power our Encryption as a service (Eaas), Tokenization as a service (Taas), threat management and managed end-point security services. These services provide a fault tolerant and abundant environment that our clients can access from anywhere, at anytime and are just another example of how seriously we take security.
Being in the top 25 Most Promising Cloud Service Providers is recognition we appreciate—and one that will enable us to continue to establish ourselves in the industry. We're building our services to make adopting cloud services easy and painless, no matter how big or small or technically advanced a company is.