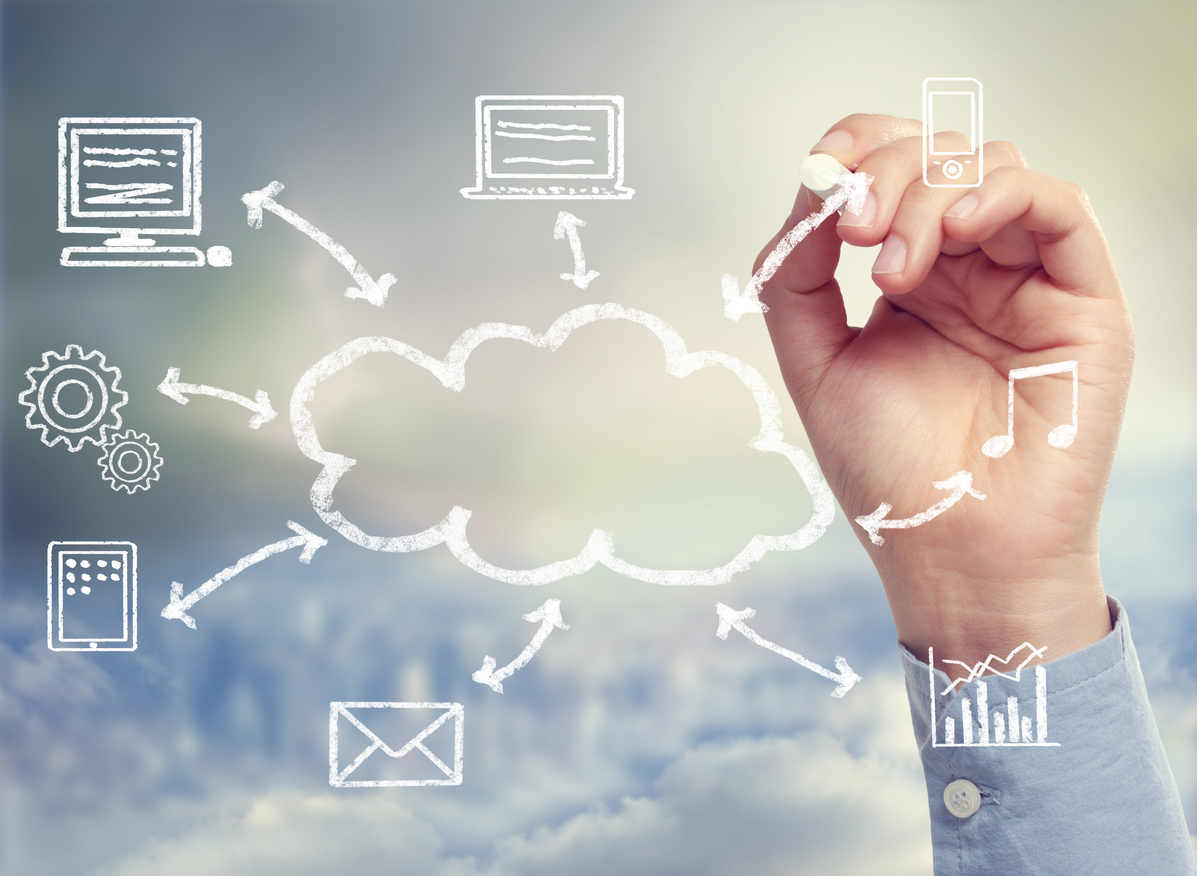 What's in store for cloud computing in the coming year?
2016 was an overwhelming sequence of information overload, but this is just the beginning. The cloud is continuing to cast a shadow over the computing market share with an increasing number of solutions for SMBs, enterprise and industry-specific organizations.
With such a rapid pace of innovation, there is no time to waste mulling over migration. It is time to get on board and stay informed throughout the process. Here are the cloud trends predicted to take over the 2017 tech space.
Machine Learning/AI
Machine learning has been inching into the cloud space for some time and has become more user-friendly—allowing developers to integrate it into cloud-hosted applications.
According to Gartner, Smart machine technologies will play a big role in the tech space over the next 10 years. It provides radical computational power, seemingly endless amounts of data, and unprecedented advances in deep neural networks that will allow organizations with smart machine technologies to harness data, adapt to new situations, and solve unprecedented problems.
Machine learning helps with automated security operations by providing enough information to automatically prevent an anomalous action. This also sheds light on which types of incidents should take priority throughout the course of everyday alerts.
Deep learning is notable because it enables the practical application of Machine Learning and Artificial Intelligence. Deep Learning breaks down tasks in ways that makes all kinds of machine assists seem possible and even likely.
We can now create things like neural networks and advanced predictive algorithms at a much lower cost. Security analytics engines digest data from network gear and endpoints in search of anomalies that indicate threats. By setting a baseline for normal, these engines spot out-of-the-ordinary behaviors and assess whether they represent malicious activity.
As these platforms become more sophisticated and trusted in 2017, they will be able to spot attacks in earlier stages and stop them before they become active breaches.
Serverless Computing
2017 will bring accelerating growth of serverless technologies and architecture as users maintain the freedom to develop, run, and manage application functionalities without the hassle of overseeing the backend infrastructure. This, coupled with low barrier to entry, predictable billing, and rapid scaling, is attractive to organizations of all sizes, so we can expect many more serverless use cases in 2017—especially regarding the Internet of Things.
Serverless technology allows companies to adapt quickly to changes and developments, which, in turn, allows them to focus on their competitive advantage and get ahead of the game. With new solutions, such as AWS Lambda, we can deploy functions that provide three major advantages:
• Lowers the cost of cloud by providing computing power on an as-needed basis, as well as triggering solutions by a particular action set by the developer.
• Scales in synchronization with changing demand.
• Promotes the development of cognitive and IoT apps, which can be integrated with technologies like cognitive intelligence and data analytics.
Hybrid Cloud
The partnership between AWS and VMware has given more clout to the concept of hybrid cloud. Through the hybrid method, on-premises data centers have been found to still have a role in the cloud world.
Utilizing a hybrid cloud gives the customer the flexibility to transition to the cloud in a gradual, cost-effective manner. It also provides a variety of recovery options, should the need arise. This is paving the way for companies to prepare better, more efficient disaster recovery plans.
Although a hybrid cloud has its fair share of challenges, many service providers offer solutions that allow customers to host their infrastructures as they see fit.
The perceived complication and expense of transitioning to cloud that has held many IT organizations back is now starting to whither. More companies are realizing that adopting a hybrid cloud approach—with the right partners in place—can actually be quite simple and affordable.
Containers as a Service
The container revolution powered along in 2016 as companies continued to develop tools for creating and deploying applications that run inside lightweight, portable environments that are smaller than traditional virtual machines.
According to The Enterprisers Project, containers are the next big IT disruption due to their ability to simplify IT automation through software-defined functions, versus manually managing hardware boxes and applications.
The International Data Corporation (IDC) expects enterprises to gravitate towards containers for infrastructure optimization, data protection, persistent storage consumption, portability and efficiency.
The International Data Group (IDG) noted that one of the biggest advantages of containerized applications is that developers can work with them on a personal computer before deploying them to the server hardware. They can also move the applications while keeping all dependencies intact.
It's a way to improve the reliability of the product and increase efficiency. Containers also help create microservices applications, which use multiple independent services to comprise an app, versus building a monolithic bundle of functionality.
According to TechTarget, containerization virtualizes the operating system, which allows workloads to share the underlying code and dependent libraries. Enterprises with highly virtualized storage could therefore deploy hundreds or perhaps thousands of containers on a single node, all running as lightweight instances.
XaaS (Everything as a Service)
XaaS—or everything as a service—is becoming one of the most popular trends in cloud computing.
According to a study by Deloitte University, the proliferation of XaaS is augmented by underlying foundational trends that enable enterprises to connect and work with multitenancy, become location- and device-independent, and enjoy rapid scalability. XaaS's pay-per-use and on-demand model helps rapid implementation, cost predictability, agility, and balanced ROI—further solidifying Xaas as a potential disrupter to current business dynamics and open avenues of value creation.
XaaS is emerging as the overarching structure for an end-to-end business process management—that is, managing business processes from their conception and design to implementation and adoption.
Under the Everything-as-a-Service (XaaS) model, everything is being delivered to the customer through public and private clouds as a subscription-based service. XaaS enables companies to tailor their computing environment to shape the experiences they want for employees and customers. It also addresses the evolving need for a cohesive one-stop experience so that companies can focus on the business and not on its underlying infrastructure.
As the product being sold transforms into a service, the future will likely force industry incumbents to redefine their business models. This includes revisiting product strategy, pricing strategy, maintenance and support structure, and performance indicators.
Computerworld's Tech Forecast 2017 showed 33 percent of survey respondents worked for an organizations that will increase spending on software-as-a-service (SaaS) offerings next year. 24% of those polled said they intend to spend more on platform-as-a-service (PaaS) technologies and 27% said they will invest more money in infrastructure-as-a-service (IaaS) in 2017. Overall, 29% of respondents expect cloud or SaaS systems to be the disruptive technology that has the most impact on their business over the next three to five years.
Managed Service Providers
Businesses of all sizes no longer need to tack on extra costs to maintain a local data center. With cloud services, SMB's and enterprises, alike, can use the cloud to their advantage and focus on the most critical tasks to grow their business.
Cloud providers operate globally and maintain regional data centers that meet today's data sovereignty regulations. They also have teams dedicated to monitoring and planning for regulatory shifts, which often proves cost-prohibitive for individual businesses.
Enterprises are continuing along their outsourcing journey, but not all workloads will go to cloud for at least the next several years. There is growing demand for managed services to help determine which workloads should go where, to migrate them and to handle the infrastructure as needed.
MSPs need to have the financial and operational discipline to succeed in the new world where technology is not only seen as important, but strategic in the eyes of SMB users. SMBs today are more knowledgeable about the importance of IT and the threat of how poor IT affects their overall business.
Customers are getting used to the cloud mentality: paying for what they use and accessing IT resources on demand. Providers that can offer a similar approach for datacenter space and connectivity will have strong appeal for customers with variable workloads or unpredictable IT needs.
If you'd like to learn more about these and other trends in cloud computing and storage, reach out to the cloud security experts at Cloudhesive today at 800-860-2040 or through our contact form.