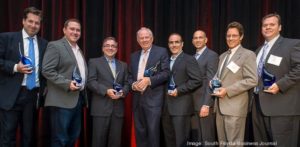 Jim Walker, CloudHesive CEO pictured with H. Wayne Huizenga Startup Award
CloudHesive was recently recognized as a winner for the 2015 Business of the Year awards hosted by South Florida Business Journal. This is a huge honor for us as being recognized by the business community always carries with it some level of validation and acceptance. Having been honored with an award that carries the H. Wayne Huizenga name is also pretty thrilling as if there was a Mt. Rushmore of entrepreneurs he would be on it.
Click here to read more about the event that also honored AutoNation CEO Mike Jackson with a lifetime achievement award.